Description
"Hotgun" spot space heater heats the air with its high efficiency combustion system,and a conversion rate from fuel to energy of nearly 100%. This remarkable technology achieves very quiet combustion of 69dB, high efficiency and long-running time with hottest air flow on the market.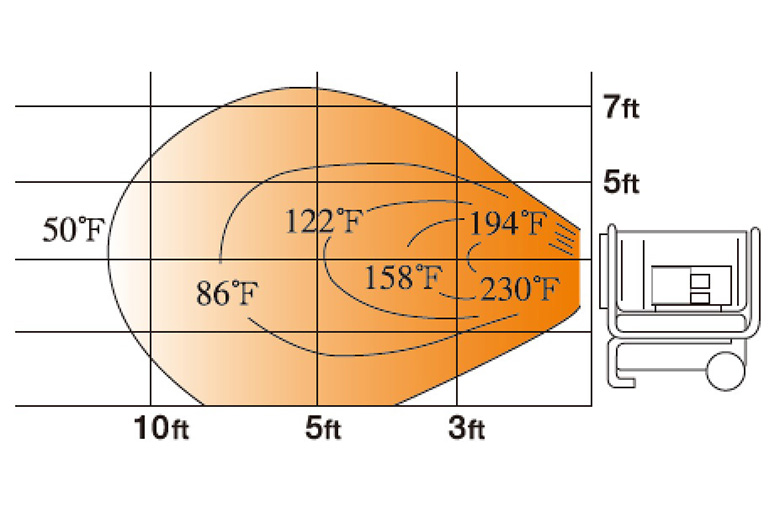 "Hotgun" can run over 15 hours with its 54liter(14.3gallon) tank,and can be operated with diesel or kerosene.
MODEL
HG 125NA
HEAT OUTPUT
116,000BTU/h
(34kW)
29,000 kcal/h
(34kW)
FUEL
Kerosene, Fuel-Oil no heavier than No.2(Diesel)
Kerosene, #1 Diesel
TANK CAPACITY
14.3 gallons
54 liters
POWER SOURCE
110V/50Hz, 120V/60Hz
230V/50Hz
POWER CONSUMPTION
176W
176W
AIRFLOW RATE
636 CFM
18 m3/min
SAFETY DEVICE

 

 

 

 

FUEL CONSUMPTION
0.9 gal/h
3.4 L/h
EXTERNAL DIMENSION (HxWxD)
30.8x22.3x28.1 (in)
780x565x712 (mm)
DRY WEIGHT
82 lbs
38 kg
Payment & Security
Your payment information is processed securely. We do not store credit card details nor have access to your credit card information.