Description
RoboVac G30
Smart Dynamic Navigation 2.0: With the Path Tracking Sensor, Smart Dynamic Navigation 2.0 allows for purposeful cleaning when compared to random path robotic vacuums.
2000Pa of Hard-Hitting Suction: The ultra-strong 2000Pa of suction power ensures more debris is picked up across all surfaces giving you noticeably cleaner floors.
App Control with Cleaning History: Complete all your cleaning needs right from your smartphone. When the job is done check-out where and when your RoboVac cleaned.
BoostIQ Technology: Automatically increases suction power within 1.5 seconds when extra vacuuming strength is needed—so you get the best clean.
What You Get: RoboVac G30, Charging Base, AC Power Adapter, 2 Side Brushes, Additional Unibody Filter, Cleaning Tool, 5 Cable Ties, Welcome Guide, and our Worry-free 12-month Warranty.
The Right Way to Clean
The Path Tracking Sensor ensures that G30 adapts to changes of surface while remaining on the most efficient route to clean each room. From carpet to hard-floor the right path is always taken.
    Knows Your Home
With 9 built-in infrared sensors Robovac is constantly aware of its surroundings.
    Drop-proof Technology
RoboVac uses drop-sensing technology to avoid falling down stairs and off of ledges.
    Friendly Reminders
Helpful voice-prompts inform you of your RoboVac's current status and guide you through any problems that may occur.
 Disturbs Dust Not People
The advanced brushless motor significantly reduces vacuuming noise.
    Avoids Tricky Spots
The large wheels roll over carpets and ledges with ease reducing the likelihood of your RoboVac getting stuck.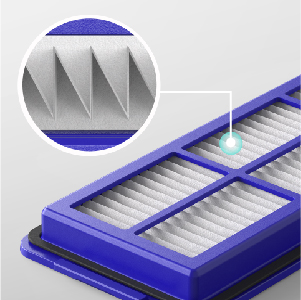 Minimum Hassle, Maximum
    Convenience
The redesigned Washable Unibody Filter increases efficiency and lasts longer which means less fuss for you.
    Auto-Return Cleaning
When the battery level is too low to continue cleaning, RoboVac will automatically return to the charging base. Once charged to 80% battery it will resume cleaning in the area at which it stopped.
eufy RoboVac G30
Purposeful, Powerful, Proficient
Smart Dynamic Navigation 2.0
The refined Gyro-navigation Technology and all-new Path Tracking Sensor allow RoboVac to clean with purpose like never before.
Packs-a-Punch
2000Pa of hard-hitting suction power means that RoboVac won't miss a speck as it glides from room to room.
Total Control Over Your Clean
Give detailed commands right from the app or control via voice assistant. When the task is complete, check the cleaning history to see where and for how long your RoboVac cleaned. Helpful voice reminders provide you with guidance and updates so you always know what is going on.
BoostIQ and Hands-Free Control
RoboVac possesses BoostIQ Technology which automatically increases suction power when extra vacuuming strength is needed. With multiple cleaning modes and auto-clean scheduling RoboVac ensures an effortless, thorough clean while you relax.
Improved Cleaning
Refined from the inside and out to provide quiet vacuuming with zero hassle, RoboVac cleans with the equivalent sound of a microwave. Reduced height of only 2.85" allows for cleaning under low-lying furniture with ease.
Year-Round Support
12-month product support and provide friendly, easy-to-reach assistance.
For Optimal Use:
- Ideal for hardwood, tile, laminate floors, and medium-pile carpets. Not suitable for high-pile carpet and very dark-colored floors.
- Move cables out of the way to avoid tangling. 5 cable ties are provided in the package to help you better organize wires and power cords.
Payment & Security
Your payment information is processed securely. We do not store credit card details nor have access to your credit card information.